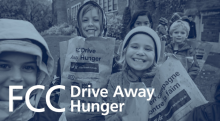 Marion McVeety School is once again please to support the FCC Drive Away Hunger Campaign.
Students have received a brown paper bag and are encouraged to make a donation of non-perishable food.  Students are encouraged to bring the bag back to the school with food donations.
FCC will then pick up our food donations on Thursday, October 4th.