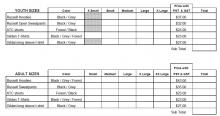 Marion McVeety will be having a school clothing sale starting Monday, November 18th to Friday, November 29th.
All clothing orders must be purchased using SCHOOL CASH ONLINE.  No cash orders are accepted. 
Students will bring home an order form this week and all order form are attached to every student on SCHOOL CASH ONLINE.