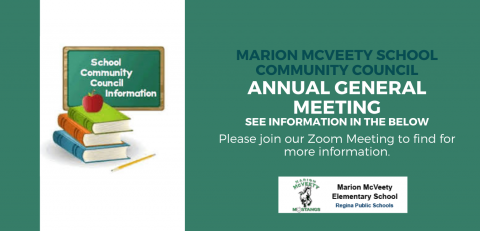 MARION MCVEETY COMMUNITY COUNCIL ANNUAL GENERAL MEETING AND ELECTIONS 
When: 6:30 PM on Wednesday, October 13, 2021.
Where: Virtual Meeting on Zoom (for an invitation and a link to the meeting, send an email to marionmcveetycommunitycouncil@gmail.com prior to October 12th)
What: Election of 5-9 Voting Members of the Marion McVeety Community Council for the 2021/2022 school year.
School Attendance Area: Bordered by Albert Street on the West, 23rd Avenue on the North, Wascana Parkway on the East, and Parker Avenue to the South.
Approved Election Procedures: Visit the Regina Public Schools website for information.  https://www.reginapublicschools.ca/school_community_councils
If you wish to serve on the Community Council for the 2021/2022 school year, please contact the school office to put your name forward as a candidate.
Please note that you can also put your name forward at the meeting. Everyone is welcome.
We hope to see you there!