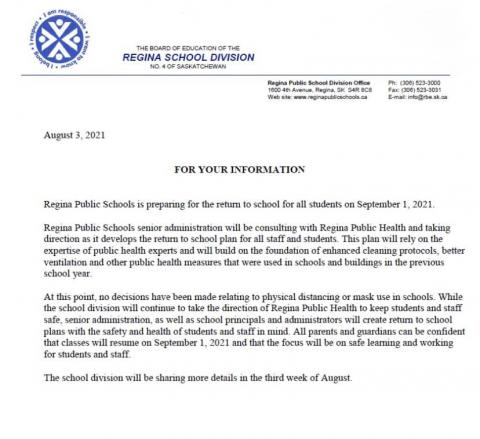 August 3, 2021
FOR YOUR INFORMATION
Regina Public Schools is preparing for the return to school for all students on September 1, 2021.
Regina Public Schools senior administration will be consulting with Regina Public Health and taking direction as it develops the return to school plan for all staff and students. This plan will rely on the expertise of public health experts and will build on the foundation of enhanced cleaning protocols, better ventilation and other public health measures that were used in schools and buildings in the previous school year.
At this point, no decisions have been made relating to physical distancing or mask use in schools. While the school division will continue to take the direction of Regina Public Health to keep students and staff safe, senior administration, as well as school principals and administrators will create return to school plans with the safety and health of students and staff in mind. All parents and guardians can be confident that classes will resume on September 1, 2021 and that the focus will be on safe learning and working for students and staff.
The school division will be sharing more details in the third week of August.