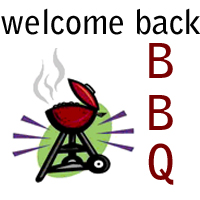 The Marion McVeety School Community Council would like to invite all families to join them for a BBQ on Monday, September 24th from 5:15 - 6:30pm.
Meet the school staff from 4:30 to 5:30pm in the classrooms and school.
The BBQ is sponsored by your MMSCC.  There is no charge for this event but donations are gratefully accepted.
The MMSCC is a parent run, volunteer organization that supports the school community at Marion McVeety School. 
The MMSCC works to support all learning initiatives, fundraising for school projects and hosts numerous events through the school year.
The MMSCC meet in the school library the 1st Wednesday of each month at 6:30pm. 
All parents and families are welcome and encouraged to attend.
When:  Monday, September 24th 
          :  4:30 - 5:30      Meet the staff.
          :  5:15 - 6:30      Enjoy a hot dog & drink outside with families.
Where: Marion McVeety School