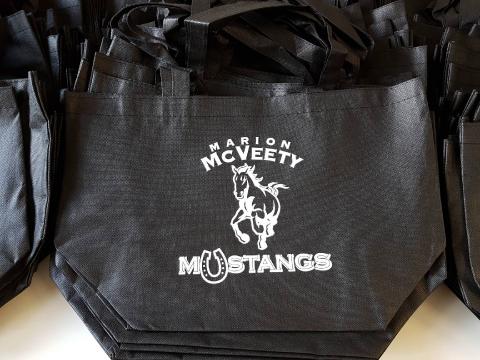 The Plastic Bag Grab has certainly brought some very important issues to our attention at Marion McVeety School in Regina, SK. We did some research about how plastic bags harm the environment, and really focused on marine life, especially how turtles mistake the bags for jellyfish and eat them. From there, we discovered that plastic never completely breaks down, and that birds and other marine animals are eating these pieces as they float around in the ocean. We watched videos and learned about the Great Pacific Garbage Patch. Very frightening, and it spurred us into action.
The added challenge of promoting the reduction of plastic bag usage in our community led us to lots of ideas, and together with our new learnings, we chose to expand our plastic bag collection to include other recyclable items that are not collected with our local blue bin items. On a Saturday in April, we opened the school doors to our families and our community for 3 hours to collect the following items:  
-          Plastic Bags (of course)
-          Household batteries (AA, AAA, C, D, 9V)
-          Used ink cartridges
-          Used pens, markers, highlighters, whiteboard markers, and mechanical pencils
-          Plastic containers between 750 mL to ice cream pail sizes, with the lids. (We donated these containers to a local organization who uses them to help feed people in need of a hot meal in our city.)
The event was promoted through a note sent home, our school website, our outdoor sign, Twitter, Facebook, our Home & School Association, and our local neighbourhood association on their website.
The best part of this mini-collection day was that we rewarded each family who brought plastic bags for recycling with a reusable shopping bag with our school logo on it!! We are very excited to promote the reduction of plastic bags needed by encouraging the use of our reusable bag.